Commercial Drywall Services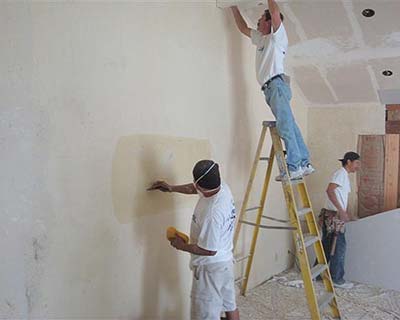 We at J& R Custom Walls, Inc. are a leading company in the drywall installation space and handle every aspect of this job with the highest levels of expertise. We cater to clients in and around Anaheim, Costa Mesa, and Dana Point, as well as Fullerton, Huntington Beach, and Irvine.
Commercial clients from Laguna Beach, Laguna Niguel, Lake Forest, and Mission Viejo hire us for all their commercial drywall solutions. We also cater to clients in Orange, San Clemente, and the surrounding areas. The range of commercial drywall services we offer include:
Hanging
When it comes to drywall, the process of hanging refers to how the sheetrock, plasterboard or wallboard is placed. The latter is made up of gypsum and other building materials and is primarily used for interior ceilings and walls. Plaster applications tend to be very time-consuming, and messy. In comparison, drywall is quicker, cleaner and has a superior finish as well. We handle all types of drywall hanging jobs. Our team of experts has handled a large number of similar projects and knows exactly what kind of hardware needs to be used in the installations. While we provide the best quality solutions, we maintain extremely cost-effective pricing. Read More About Hanging >>
Taping
Once the drywall boards have been hung, the screws, nail heads and seams need to be taped-off. Our team will make sure that once the sheets have been affixed correctly to the ceiling joists and wall studs, all of the seams between the sheets will be concealed using specialized joint tape. In addition to the actual taping, we also use joint compound (mud) in this filling and smoothening work. This material is made of vinyl and is applied before the seams are taped methodically. We have experience with mud application and will ensure that the drywall joints are properly finished. You can rest assured that the tape joints would blend in perfectly with the sheets and won't be visible through the paint. Read More About Taping >>
Texturing
Texturing of drywall may seem like a very straightforward and simple job. However, it requires skill and expertise. In the hands of experienced professionals, it can become time-consuming and messy and extremely expensive as well. This is why it is best to leave the job to professionals like us. We have been in this industry for over a decade and can provide our clients with the different types of drywall textures and finishes they need. The right kind of texturing can create a very appealing and unique look in the indoor areas of your commercial establishment. The different types of textures that we offer for drywalls include smooth finish, orange peel and knock down. Read More About Texturing >>
For any more information about our high quality commercial drywall services, feel free to contact J & R Custom Walls, Inc. at 714-323-1473. You can also send us your requests and project details through this Contact Us form and one of our drywall experts will contact you shortly.
We Provide Services to the Following Cities,
Towns and surrounding areas in CA: