Residential Drywall Services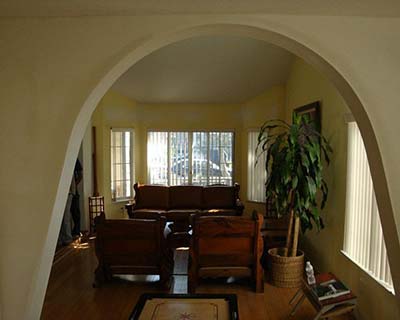 We at J & R Custom Walls, Inc. are a leading company in the drywall installation space and we handle every aspect of this job with the highest levels of expertise. We handle projects for clients in and around Anaheim, Costa Mesa, and Dana Point, as well as Fullerton, Huntington Beach, and Irvine.
Homeowners from Laguna Beach, Laguna Niguel, Lake Forest, and Mission Viejo hire us for all their residential drywall solutions. We also cater to clients in Orange, San Clemente, and the surrounding areas. The range of residential drywall services we offer include:
Hanging
There are a number of different processes in drywall installations and hanging is one of them. In this stage, we place the sheetrock/plasterboard/wallboard. These sheets are typically used for interior walls as well asceilings. While plaster is the other option used in these settings and applications, the job is very messy and takes longer to complete. In comparison, when drywall or gypsum sheets are used, the job can be completed within a shorter timeframe. We have been handling these types of jobs for over a decade and provide residential clients with high-quality solutions at prices that fit right into their budget. Read More About Hanging >>
Taping
Once the drywall sheets are in place, all the uneven surfaces such as areas with screws, nail heads, seams etc. need to be taped off in order to create a smooth surface for the final finishing. In the taping process, we first smoothen out all the uneven surfaces using vinyl spackling. Multiple layers of this compound may be applied depending on which areas need to be covered. Once this job has been completed, we will tape the seams. This creates a very smooth surface which becomes perfect for painting and texturing. This is a specialized job which requires attention to detail, knowledge and experience which is where our expertise comes into the picture. Read More About Taping >>
Textures/Custom Hand Textures
Once the drywall sheets are in place, texturing becomes the next stage of the project. This job is as important as any other phase and needs to be completedexpertly. With the vast experience we have in this industry, we know what it takes to provide our clients custom hand textures and finishing for drywall such as smooth finish, orange peel and knock down. You can choose from these textures, to create the impact an effect you want in the room. We can provide you with customized solutions based on any other existing textures that you have in your home. Read More About Textures/Custom Hand Textures >>
Arches
Arches lend a very unique and charming look to interior spaces. However, these features need to be planned and installed with attention to detail. As a company that has vast experience in this industry, we are able to provide our clients with outstanding arches. Regardless of whether you want a very simple arch or something more intricate and elaborate, we can provide solutions that will complement the appeal and architectural elements in your home. A well-designed arch can become the perfect entryway and can create an impactful grand entrance. In this installation, we first design a wooden frame over which we will install drywall which will then be molded perfectly to match the arch. The final process involves prepping the drywall for painting. Read More About Arches >>
Painting
While painting is the last step of wall finishing, it's very important to ensure that the wall in prepped appropriately. If done incorrectly, it can result in grainy or uneven surfaces that also have lumps or show signs of bowing. When we handle your painting job, we make sure that the walls are prepped perfectly and that the surfaces are smoothened well. We are very meticulous in our approach to this job and ensure that the drywall doesn't have any ridges, pops, cracks or sags. We will fix all the imperfections in the wall and ensure that all of the rough areas are eliminated after which a primer will be applied to the surface. Read More About Painting >>
Remodels
If you are considering getting any indoor area of your home remodeled, you would need the kind of drywall expertise that we bring to the table. We specialize in installing new walls and ceilings during different types of interior remodel jobs such as kitchens, living areas, bedroom spaces and more. Not only can we install basic drywalls but can also create unique and attractive elements such as arches and more. We have expertise in drywall installation, finishing and texturing. You can rest assured that the final product will be outstanding in every way and will add to the beauty and value of your property. Read More About Remodels >>
Acoustic Scrapes
In the early eighties, popcorn textured finishes were commonly used on ceilings, but these eventually went out of style. However, many homes continue to have this ceiling finish which may not always be in sync with the rest of the decor in the space. If you have a popcorn ceiling that you want to be removed, we can handle this job for you using the special technique referred to as acoustic scraping. This job requires a considerable amount of skill and the existing texture needs to be removed without damaging the underlying surface. The next step is preparing the wall for a new finish. We also recommend asbestos testing for any acoustic finishes installed before 1979. Read More About Acoustic Scrapes >>
Water Damage
Water leakage can cause a significant amount of damage in a home. Leaky faucets, a roof leak or any other plumbing installation that is showing signs of leakage, can affect the drywall installations in your home. If you have seen any staining, wrinkles or bubbles forming on the drywall surfaces on your property, it is important to hire experts like us to fix the water damage. While it is important to get the plumbing problem fixed, the damaged wall would also need proper repairs. Once all the repairs have been completed, we will prep the wall and make sure that the surfaces are ready for painting or texturing. Read More About Water Damage >>
Garage Specialist
Garage walls tend to see a significant amount of wear and tear over time. If you have noticed any signs of deterioration or damage from vehicles, or due to kids, we can help restore the walls to their former condition. Our team of experts can handle everything from wall repairs to installation of smart storage systems on existing walls. We can also install ceiling coverings and refashion old drywalls to give them a new and appealing look. Many homeowners use their garage as a storage space, and installing drywall provides a certain amount of insulation which helps protect the stored items from damage. Read More About Garage Specialist >>
For any more information about our high quality commercial drywall services, feel free to contact J & R Custom Walls, Inc. at 714-323-1473. You can also send us your requests and project details through this Contact Us form and one of our drywall experts will contact you shortly.
We Provide Services to the Following Cities,
Towns and surrounding areas in CA: