Residential & Commercial Drywall Services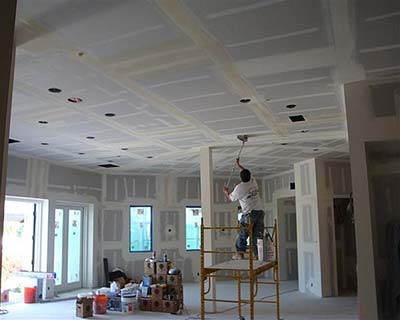 J & R Custom Walls specializes in providing new installation, repair, and remodeling services for residential and commercial drywall. From wood framing to textures to arches to painting, we provide a wide range of services to enhance your walls and ceilings. Explore the different types of residential and commercial drywall services that we offer to our clients throughout Orange County and the surrounding areas.
Wood Framing
Wood framing is an important stage in a residential construction project. Our experienced and well-trained framers will follow the plans and codes, ensuring accuracy and precision. From design to fabrication to installation, we handle all aspects of your project. We provide our services for different types of properties including private custom homes, single-family communities, townhouses, housing developments, condos, and villas. The design plans will be developed around your unique needs, followed by our expert craftsmanship to transform your ideas into reality. We plan and install wood frames that maintain their structural integrity for decades and are safe. No two residential framing projects are the same and no project is too big or too small for us. Read More About Wood Framing >>
Hanging
When it comes to hanging wallboards, sheetrocks, or plasterboards, our experienced and licensed technicians can drywall your home within a few days. From using the right hardware to proper product lengths to keeping the pipes and wires safe, we have the experience and expertise to ensure it is a clean and flawless work. Depending on the situation, we may also attach drywalls using industry-grade adhesives. Our experienced applicators will determine the ideal method for hanging your drywall. Whether it is for your new home or an addition, we can install drywall for all kinds of projects. We will take measurements, cut, hang the drywall or sheetrock, inspect, and ensure the electrical and other features are perfect, and complete the project with finish touches of your choice. Read More About Hanging >>
Taping
Taping off is an important process in completing the drywall wallboards installation process. This includes taping off nail heads, seams, and screws. Once our technicians have secured the sheets to the wall studs/ceiling joists, we will create a professional and flawless look by concealing the seams between the drywall sheets. We will also apply multiple layers of 'mud'. Once the compound has air dried, it will be sanded smooth before we paint it. A skim coat is provided to the entire wall to eliminate any differences between the mudded areas and the paper. We use different types of drywall tapes including vinyl, mesh, and paper. Read More About Taping >>
Textures / Custom Hand Textures
Our professional drywall texturing services help save time, avoid any mess, and prevent the job from becoming expensive due to any failed non-professional attempts by you. Our technicians will take care of matching your existing drywall textures or finishes with flawless results. We provide texturing services for all the different types of drywall textures including orange peel, knockdown, and smooth finish. We can help you create the desired looks by matching the existing textures or creating custom textures. Smooth finish textures are the most complex, but we have the experience and skills required to achieve them with flawless results. We can design any looks that you desire. Read More About Textures / Custom Hand Textures >>
Arches
From the simplest to most elaborate arches, we can design everything. We have the experience and skills required to transform your ideas into a piece of art. Whether you want to transform your plain old rooms or entryways to create stunningly beautiful and grand entrances or just update the looks, our trained professionals can take care of the job. Our expert planning plays an important role in ensuring precision and accuracy. Our expertise and skills prevent any room for expensive mistakes. Our designers will work with you to create the plan and our technicians will keep you in the loop to ensure your complete satisfaction. We create arches that add a new dimension to your room or entrance. Read More About Arches >>
Painting
From proper paint prep to a finished wall, we take care of your complete painting process. Our prep job will prevent any issues of lumps, bowing, graininess, or unevenness. We begin every project with proper planning. Preventing any cracks, sags, pops, and ridges is an important aspect of the planning process. The prepping work begins with filling all exposed imperfections with drywall mud. This is followed by sanding to take care of all the non-smooth areas. We will wipe clean any dust or deposits on the walls before applying a layer of special latex drywall primer. This can be followed by the further hand sanding process before we begin the painting process. Read More About Painting >>
Remodels
The regular changes in home décor styles and trends mean that your home interiors and wall and ceiling textures can quickly become outdated. When you need quick, elegant, and flawless remodels, you can trust us with all aspects of your project. We provide remodeling services including kitchen remodels, patch-ups, custom wall, and ceiling textures, and additional walls among others. Your wall and ceiling textures have both aesthetic and functional purposes. The light shining across your ceiling and walls can highlight any irregularities. So, we will not only update and enhance your home interiors, but we will also ensure that all irregularities and defects are taken care of. Our remodeling services can help breathe in new life into your décor. You can choose from all the different textures to achieve the desired looks. Read More About Remodels >>
Acoustic Scrapes
Popcorn textures are common on old ceiling finishes. Our acoustic scrapes services are more commonly used for removing these textures. It is a job best left to the experts. We don't want you to handle it on your own and causing damage to the drywall. Our trained and experienced technicians follow proven techniques to remove the existing structure and prep the surface for a new finish. We ensure that the job is done right the first time. We will recommend the removal of furniture and other items and will protect your flooring with covers to prevent any damages from the debris. Read More About Acoustic Scrapes >>
Water Damage
It is common for walls and/or ceilings to be damaged by leaky faucets, roof leaks, plumbing leaks, or even water plants. When it comes to your drywall, water damage cannot be scrubbed or wiped clean. Our professional drywall repair services can help you restore your walls or ceilings in the textures and looks of your choice. Painting over the water stains or other quick fixes are only short-term remedies. Once the cause of the water damage is addressed, we will conduct professional preparation. Your drywall area may need to be removed before we begin the repair process to help you achieve the desired looks and results. Read More About Water Damage >>
Garage Specialist
Your garage undergoes all forms of wear and tear on a regular basis. It is common for homeowners to ignore the repair needs of their garages. When it comes to garage repairs, we often come across a lot of damage and repair work. Garage walls can be damaged by many factors including wear and tear from vehicles, kids' activities, and/or storage units. As garage wall/ceiling repair specialists, we can fix and transform the space into a beautiful area. We take care of wall repairs, revamping walls, and ceiling covers, or installing new storage units onto existing wallboards. We help you make the most of drywall for your garage. Read More About Garage Specialist >>
Tenant Improvement
When you open a new business, it is important to ensure the interior space meets the required aesthetic and functional needs. We specialize in transforming an unsuitable interior space to meet your business' unique requirements. Our tenant improvement services begin with professional planning and budgeting. Besides creating a realistic budget around your project's design, we will create a schedule, and take care of the permitting. Your project will be delivered on time, and we make the entire project management process simpler. Some of the common client requirements include moving or adding new walls, installing new tiles or carpets, painting walls, ceilings, and moldings, and adding shelves. Read More About Tenant Improvement >>
Steel Stud Framing
Our steel stud framing services help maintain your building or structure's integrity. Our framing services provide your structure with a high level of durability. Metal framing is especially suited for commercial projects. When it comes to such projects, there is no room for error or mistakes. We have the expertise and experience required to provide high-quality services and results. We recommend the use of steel because of its various benefits. It provides high dimensional stability, is non-combustible, doesn't rot or warp, and is termite and pest resistant. When you hire our services, you will get access to the ideal combination of quality work and precision. Read More About Steel Stud Framing >>
Commercial Hanging
We are your one-stop destination for your commercial drywall hanging requirements. We are the specialists in drywall projects and can also paint and finish your walls and ceilings. Our experienced and well-trained crew can take care of your commercial interior needs. We have experience and expertise with different types of wall finishes. There is no job that is too big or too small for us - sheetrock, drywall, or plaster hanging or repair jobs. We can use screws or adhesives to help you achieve the desired results. You can remain assured about the quality and flawless results we can deliver for your project. Read More About Commercial Hanging >>
Commercial Taping
Taping drywall is among the most complex parts of drywall hanging. There is more to it than just applying tap to your walls. We begin the process from the studs out. We use taps with exceptional rigidity that help create strong joints. Over the years, we have taped and finished all types of projects. This means that whatever the type and scale of your project, we can fix it. Our experience has taught our crew many techniques that can help us deliver better results to our clients. We install drywall sheets as close together as possible to minimize the gaps. The taping process will begin in the middle of the room, and we work our way to the corners to prevent the tape from coming loose. Read More About Commercial Taping >>
Commercial Texturing
Our drywall texture experts bring excellent quality and craftsmanship to every project we handle. From a plain sheetrock texture to more elaborate results, we can create different types of beautiful wall and ceiling textures. The choice depends on your preferences, brand image, business establishment, and the kind of environment you want to create. Whether you have a store, office building, educational institution, healthcare facility, or any other commercial establishment, we can apply custom wall and ceiling texturing. Some of the popular textures with our clients include knockdown, smooth, popcorn, and orange peel. Our experienced crew will discuss the features and benefits of each texture before you make the right choice. Read More About Commercial Texturing >>
If you want to learn more about the residential and commercial drywall services we offer or want to discuss your project details with us, give us a call at 714-323-1473. We can also be reached via this Online Form.
We Provide Services to the Following Cities,
Towns and surrounding areas in CA: